Peas Please publishes Veg Advocates Report
Today (Wednesday, July 5th 2023), Peas Please published its latest report showcasing some of the brilliant work that Veg Advocates across the UK have been doing to influence business practice and to help promote veg in their local communities. The report also looks at how a network of food activists has formed and considers what Veg Advocates think needs to happen to make it easier for everyone to eat more veg and what has been learnt about how to meaningfully involve citizens in food activism.
The Veg Advocate programme was launched by in March 2020. Its aim was to involve citizens as part of the wider work undertaken by Peas Please, based on the knowledge that we can better understand the barriers that people face in accessing veg through grassroots involvement, listening to people, and working with them to identify solutions. Initially engaging 180 volunteers from across the UK, Peas Please aimed to understand what citizens believed it would take to make it easier for people to eat more veg.
The Peas Please initiative set out with a clear mission: to make it easier for everyone in the UK to eat more veg. Food Sense Wales is the national partner for Peas Please in Wales.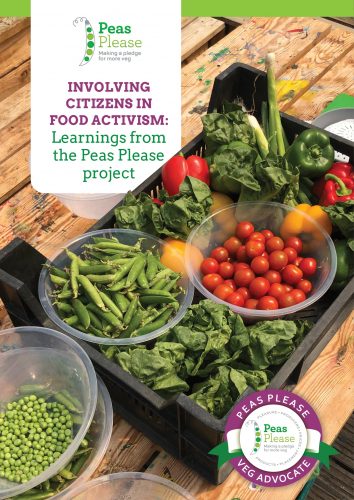 Read the report in full here.  You can also read the report in Welsh here.