Bridging the Gap: Big Ideas to be piloted in Cardiff
Creating a fairer and more sustainable food system means tackling issues that often present interconnected challenges. Food that is good for people and the planet, that benefits communities and supports decent livelihoods is currently more expensive than food that is bad for health and produced in ways that damage the planet. At the same time, many communities are suffering the health consequences of lack of access to fresh and nutritious food
The Bridging the Gap programme, has been launched to tackle this challenge and create new ways to better enable low-income and marginalised communities to access affordable, healthy, planet-friendly food.
Across two half-day workshops run by Watch-Africa CIC on 5-6 July on behalf of Sustain, Food Sense Wales and Food Cardiff; a group of community members, farmers, market managers and dieticians worked on creating 'big ideas' for one or two pilot projects to run in Cardiff.
The projects are geared to enabling families who are on a budget, who come from ethnically diverse communities, and from Cardiff to purchase locally and sustainably grown, organic, culturally appropriate vegetables.
The Big Ideas Workshop was designed as a fast and effective way to create solutions to big challenges, and to support a group of relevant people to develop and test the ideas.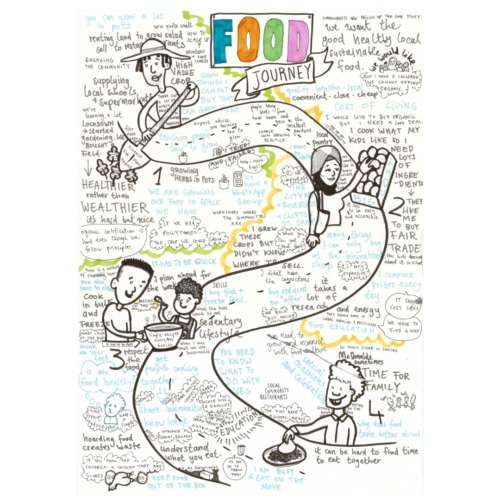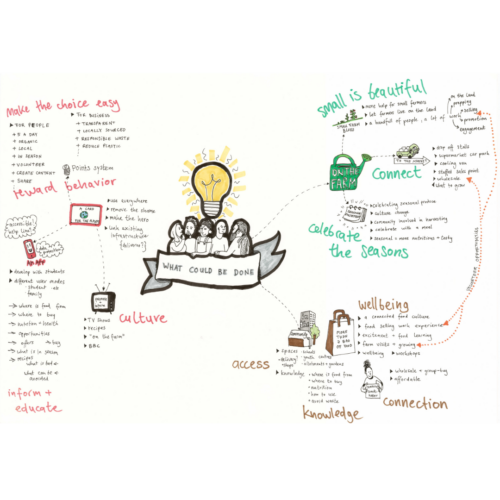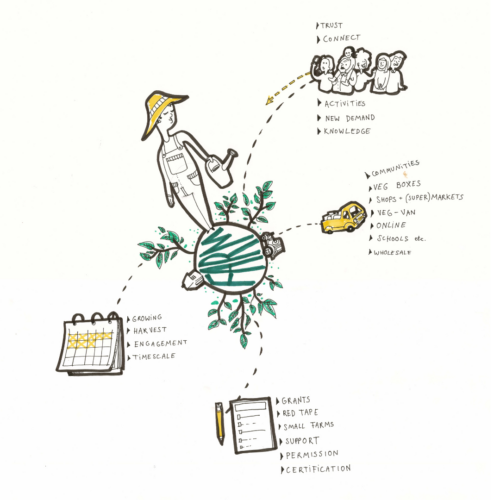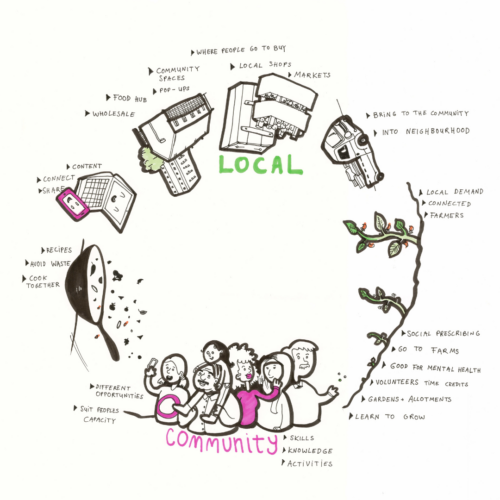 Over the two days, the group developed 'big ideas' for pilot projects, which will now be further developed collaboratively with the people who will benefit. Food Cardiff has secured funding to test the ideas in practice over the next 18 months.
Cardiff resident Sharifah said:
"I don't really buy too many organic things, but I want to do more and thought this would be a chance for me to really understand the issues around organic produce and the importance of actually having it in our everyday lives."
Farmers taking part included Bonvilston Edge, Earth to Earth Organics and Cardiff Salad Garden. Sophie from Cardiff Salad Garden explained:
"It's been really interesting to be with such a diverse group of people. And hearing a lot about different vegetables that people eat – vegetables that I know we can grow here, but I didn't realise there was a demand for them. That's really interesting."
The Big Ideas
Big Idea 1: The Planet Card
A digital points system via a card or app for providing information about and rewarding purchase of seasonal, local, climate-friendly food. This could connect to existing structures, discounts and rewards. There could be a means-tested element to increase points or provide credit to people on lower-incomes, however the card/app is open to all and using it means people are "being the hero" rather than it being stigmatising or shameful to use.
Big Idea 2: The Seasonal Community Box
An affordable local veg box which highlights seasonal champion crops, which are sold at a discount in community venues, markets and/or local shops and are supported by a programme of activities and workshops for people to learn how to utilise the produce.
As well as the development of the Big Ideas, the session has increased the connections and networks around food for the participants. The farmers have subsequently visited each other and a group visit to Riverside Farmers Market is being planned. Members of the group have joined Food Cardiff network gatherings and plans are being made for running joint workshops to showcase and celebrate culturally diverse foods.
Cardiff Farmers Market manager Carol added:
"When you're in a room with a group of people who are so passionate about food and food justice, and you hear the variety of ideas and the enthusiasm – and that other people are thinking about these things – it's really encouraging and very energising. The ideas from today are going to bring together farmers, retailers, consumers, and communities – that to me is really exciting."
The Bridging the Gap programme is being delivered by a UK partnership of organisations, led by Sustain and supported by Food Sense Wales in Wales, with pilots in Cardiff developed through the Food Cardiff network. The partners will be running pilot projects in a range of locations across the UK, and using the results to show what works and support longer-term, sustainable programmes to be developed.