Cook and Share Month
Cook and Share 2022
Between 16th October to 18th November 2022, join Food For Life Get Togethers to bring your community together and share the joy of good food!
The campaign kickstarted on World Food Day, a day dedicated to making good food accessible for all. As more people face food poverty, Cook and Share is a way to come together through food.
Across the country this autumn, community groups, schools, children's centres, faith groups and more will be getting busy in the kitchen, making food to share with each other. 
Whether you're dishing up daal, sharing a sarnie or passing round the pasta, food is a great way to break down barriers and bring people together. Why not share your favourite meals, recipes and food memories too? 
Sign up for free on the website
Cook a meal, snack, anything!
Share with your community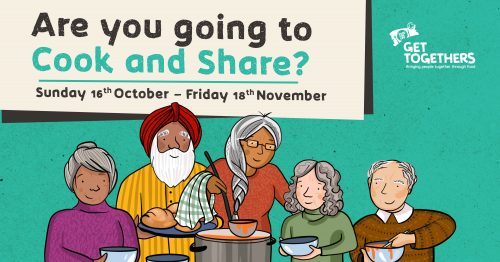 Cook and Share toolkit
Get your free Cook and Share resources here. We've got some *new* autumnal and budget-friendly recipes for 2022!
For a flavour of what you do to take part, read about Incredible Edible's Cook and Share activity. They brought their community together with a warming, autumnal soup and savoury muffins.
As Cook and Share Month launches this World Food Day, Food For Life Get Togethers' My Food Community Manager, Chandra Pankhania explains why it has never been more important to share good food. Read her blog here.
Covid Secure Events
For the latest guidelines around hosting a Covid-secure event, please visit this resource.