Food. Climate. Change? A new series of podcasts exploring food and climate change
With COP26 currently taking place in Glasgow, Food Policy Alliance Cymru has brought together a number of individuals from a range of organisations to take part in a podcast series called Food, Climate, Change?
Presented by Aled Rhys Jones, this new series of podcasts will feature people who work across Wales' food system, giving them the opportunity to discuss and explore a range of subject areas linked to food and climate change.
As part of a wider global initiative called the Fork to Farm Dialogues, Food, Climate, Change? brings together people – from farmers, producers and wholesalers; to retailers, consumers and policy makers – to have open conversations about food and farming in the context of climate change, nature loss and nutrition.
The outcomes of these Fork to Farm conversations are being highlighted during COP26 and Food Sense Wales has been working with its partner, Nourish Scotland to facilitate a presence for food and farming at COP, helping to ensure that diverse Welsh voices are heard at this important conference.  Food Sense Wales on behalf of Food Policy Alliance Cymru has therefore brought together a number of people to share their views and opinions on the various food related challenges and opportunities facing us as a nation.
The first episode will focus on the supply chain and procurement practices in Wales.  It will look at the current situation and will ask whether changing our ways of working can have a positive impact on people's health, prosperity and on our climate.
Guests on this first episode include Alex Cook – a food activist, chef and owner of SwperBox; Edward Morgan, Group CSR and Training manager for Castell Howell Foods; Abel Pearson, head grower at Glasbren CSA and Gwyneth Ayres, Corporate Policy, Performance & Partnership Manager with Carmarthenshire County Council.
The second episode is a Welsh language podcast that discusses land in Wales – from nature friendly farming to the Welsh language; and from rural communities, to growing our own food.
Taking part in this episode are Rhys Evans, Sustainable Farming Lead for Wales at the Nature Friendly Farming Network and Caryl Haf, Chair of the Wales Federation of Young Farmers Clubs.
The third podcast will feature Glyn Roberts, President of the Farmer's' Union of Wales and his daughter Beca.  Available in both Welsh and English, this episode will focus on the challenges and opportunities of Net Zero targets and will explore Glyn and Beca's hopes and ambitions for their farm and for the industry in general.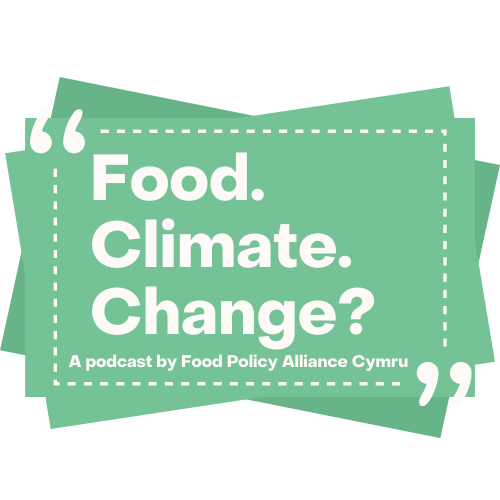 "I'm really pleased that we've been able to bring such a diverse range of people together for this series of podcasts," says Katie Palmer, Programme Manager at Food Sense Wales and one of the founding members of Food Policy Alliance Cymru.
"With the focus of the world on Glasgow and on COP26 – and having heard about a number of actions that contribute to climate change – we have to remind ourselves that between 21–37% of our total global greenhouse gas (GHG) emissions are attributable to the food system.  These emissions come from a variety of processes – from agriculture and land use, to the way we store, transport, pack, process, sell and consume food.
"This series of podcasts has enabled us to bring together people to have open and honest discussions," continues Katie.
"The complexities of the debate around food, farming and climate debate demand that we hear from a diverse range of people working across the food system in Wales.  It's vital that Welsh food and farming voices in Wales are given a platform.
"If everyone working across our food system came together with the aim of making positive changes –  the ambition to continue on a journey to net zero and the will to combat climate change – Wales could well create a food system fit for future generations," adds Katie.
The Food. Climate. Change? conversations were convened by Food Sense Wales on behalf of Food Policy Alliance Cymru.
If you're interested in food and climate change and want to listen to more episodes, you can find them by visiting foodsensewales.org.uk where you'll be able to learn more about Food Policy Alliance Cymru too.
Food, Climate, Change? is being launched during COP26 and episodes will be available to download from the Food Sense Wales website as well as being available via your usual podcast provider.
Each episode is presented by Aled Rhys Jones and was recorded and edited by Marc Griffiths from StiwdioBox.
Click here to listen to the English language podcasts: Food.Climate.Change?
Click here to listen to the Welsh language podcasts: 'Bwyd. Hinsawdd. Newid?'
ENDS