Four areas in Wales to benefit from funding to develop Sustainable Food Places partnerships
Four areas in Wales are set to benefit from funding to support the establishment of local cross-sector food partnerships within their communities.
Monmouthshire, Rhondda Cynon Taf, and Powys have secured grants through Sustainable Food Places and Blaenau Gwent has received funding from Natural Resources Wales to develop food partnerships that aim to create healthy, more sustainable and more equitable local food systems.
Sustainable Food Places is a partnership programme led by the Soil Association, Food Matters and Sustain: the alliance for better food and farming. It is funded by the Esmée Fairbairn Foundation and The National Lottery Community Fund, and currently has 55 members across the UK.
Food Sense Wales is Sustainable Food Place's national partner in Wales and will be supporting the four projects as they work to create their own partnership models and join Food Cardiff and Food Vale in becoming fully fledged members of the UK Sustainable Food Places Network.
Food Cardiff – which is hosted by Food Sense Wales – was one of the founding members of Sustainable Food Places, whose pioneering cross-sector partnership led to the development of the School Holiday Enrichment Programme, demonstrating the power of placed based collaborative working to enable access to good, healthy, sustainable, affordable and tasty food.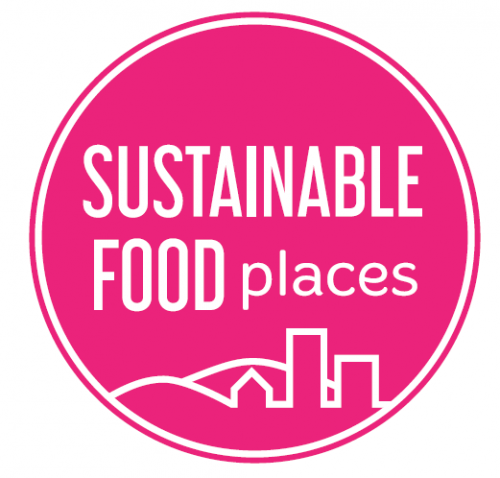 The four projects
In Powys, the project receiving funding from Sustainable Food Places will be co-ordinated by Cultivate, a local food cooperative based in Newtown.  The group has already established many positive relationships with similar organisations in the area, but wants to do more in terms of strengthening and developing a sustainable food economy.
"Receiving the Sustainable Food Places grant will enable us to work with a wider range of partners across a larger area to develop a more coherent sustainable food plan that works for our communities," says Jodie Griffith, Manager of Cultivate.  "This funding will allow us to reach out and connect with other groups and organisations and begin to bring all the fantastic work people are doing together. We know there is a lot going on in north Powys, so this will give us a change to increase capacity and connect the dots and build something more sustainable.
"It will have a positive effect on people in the community, by increasing awareness and access to good food grown locally. We hope to improve local food procurement and strengthen relationships between producers and customers to create more resilient and vibrant communities."
In Rhondda Cynon Taf, the successful partnership plans to develop a county-wide collaborative action plan which includes buy-in, ownership and support from the Council, private and voluntary sectors.  The partnership also intends to expand and map the network of growers – from individuals, allotments, school grounds as well as other parcels of land that could be used for growing – to better share resources and expertise.
"The Council are delighted to be one of the four chosen projects in Wales to develop a Sustainable Food Place in Rhondda Cynon Taf," said Cllr Rhys Lewis, Cabinet Member for Stronger Communities, Well-being & Cultural Services, Rhondda Cynon Taf County Borough Council.
"We look forward to working with the funder, the other successful applicants from across Wales, partners, businesses and residents. There are great examples of work already happening in RCT, such as local growing projects and food share schemes. We hope this initiative will help to strengthen these networks and ultimately benefit the people and environment of Rhondda Cynon Taf."
Monmouthshire already has a great number of activities, groups and individuals actively engaged and working together in the food space.
"Monmouthshire County Council is delighted to receive this funding on behalf of our communities," said Councillor Jane Pratt, Cabinet member for Infrastructure and Neighbourhood Services in Monmouthshire.  "This initiative will enhance our work in food development and build on our Food Resilience Programme, while promoting local food and moving us towards a healthier, more sustainable and equitable food system."
Deserie Mansfield, Rural Programme Food Development Officer at Monmouthshire County Council added: "We are delighted to have received a grant to develop a Monmouthshire Sustainable Food Partnership and build on our food resilience programme.  The funding and guidance from Sustainable Food Places will help our communities, business and interested individuals work together towards a sustainable food movement in Monmouthshire."
In Blaenau Gwent, a partnership, made up of Tai Calon Community Housing, the Soil Association and Public Services Board partners – including Public Health Wales, Natural Resources Wales, BGCBC and GAVO – will all work together to coordinate the development of a good food partnership.
This particular food project is being funded differently to the other three, having already been awarded a grant from Natural Resources Wales to fund a member of staff to help drive its development.  It will work closely with Sustainable Food Places and Food Sense Wales to grow the initiative becoming a part of Wales' growing network of place-based projects.
"The Blaenau Gwent Sustainable Food Partnership is delighted to have been awarded funding from Natural Resources Wales to fund the recruitment of a Sustainable Food Programme Coordinator," says Andrew Myatt from Tai Calon.
"The partnership will oversee the development of a food strategy and action plan for the county borough that integrates to the social, economic, and environmental needs of residents and community groups. It is a really exciting opportunity to build on initial asset mapping to establish gaps in local food system. It is a great opportunity to bring together local residents and key stakeholders to help address these challenges and gaps by developing local solutions that make sense to the communities of Blaenau Gwent."
Tom Andrews, Director of the UK Sustainable Food Places programme said:
"We are really excited to be starting this new phase of the programme, which will see the creation of food partnerships across Wales. As a world-class food producing nation with pioneering national policy and strategy, Wales is the perfect place for these new partnerships to prove just what is possible in creating healthy, prosperous and sustainable local food systems."
Katie Palmer, Programme Manager at Food Sense Wales – an organisation working to co-create a food system for Wales that's good for people and the planet – added:
"We have an ambition to see a food partnership in every local authority in Wales, to create a network that would form the foundation for developing the vision, infrastructure and action needed to make Wales' food system fit for Future Generations. This vision was also recently recognised by the Green Recovery Task Force and these grants will not only enable additional areas in Wales to start their own good food partnerships, but also to be part of a collective vision for placing health and sustainable food at the heart of communities and helping to further develop a 'good food movement' in Wales."
Both Food Sense Wales and Sustainable Food Places are members of Food Policy Alliance Cymru – a coalition of organisations and stakeholders building and promoting a collective vision for the Welsh food system – which is calling for investment in local, regional and national food infrastructure and communities.
The four projects that have successfully secured funding to develop their own food partnerships are helping to lead the way in establishing and growing place-based infrastructure, contributing to the development of a 'good food movement' that will benefit the health, economy, sustainability and social prosperity of communities across South Wales.
ENDS