Good Food leaders gather in Wrexham
Food Sense Wales recently organised two days of training, networking and knowledge sharing in Wrexham for individuals and organisations involved with different aspects of food citizenship and leadership in Wales.
This second Wales-wide 'Good Food Gathering' brought together Sustainable Food Places co-ordinators along with Food Partnership leaders and the Wales My Food Community cohort to exchange ideas and experiences as well as to learn more about Wales' food policy landscape.
The first day of the gathering focused on the political context in Wales with Katie Palmer from Food Sense Wales and Andrew Tuddenham from the Soil Association delivering a session on political structures, food policy context and advocacy in Wales.
There was also an introduction to the work of Food Sense Wales, information on the Sustainable Food Places network as well advice and guidance for those working on the development of Welsh Government funded food partnerships.
The event was aimed at experienced food leaders as well as those new to food partnership working in Wales and gave an overview of the current community food landscape.
"As someone about to start the work building a local cross sector food partnership, the work ahead, whilst exciting, was somewhat intimidating," says Gary Thomas, Sustainable Food Coordinator, GAVO, Newport.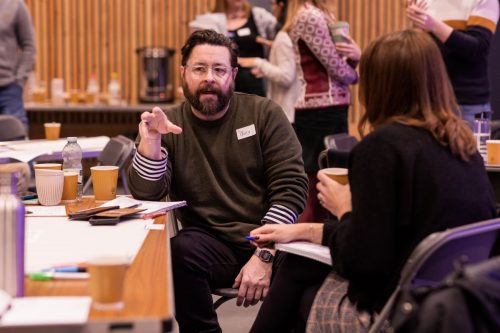 "The networking event in Wrexham organised by the awesome team at Food Sense Wales gave me the opportunity to meet and interact with counterparts from around the country who have already taken those initial steps. They were generous with their sharing of the pitfalls experienced so far, stories of their successes and offers of support going forward. It provided the opportunity to form closer bonds to geographically close organisations with whom I can envisage, working much closer as we move forward with the work. A valuable experience that offered a wealth of understanding, knowledge and valuable wisdom that will help pave the road towards the goal and make the ride smoother along the way.  The event left me feeling a part of a welcoming and nurturing movement. I was enthused and felt better equipped to tackle the tasks ahead. Huge thanks to the organising team and the participants who made the whole experience so worthwhile."
During both days, Sustainable Food Places co-ordinators as well as those leading on the work of establishing new food partnership in Wales had the chance to network, share their individual challenges and opportunities and discuss how partnership are being delivered in their areas.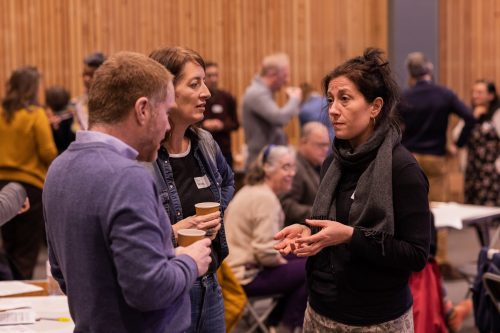 "It was energising, reaffirming and inspiring to hear about the work of existing food partnerships across Wales," adds Augusta Lewis, Sustainable Food Places co-ordinator at Carmarthenshire's Bwyd Sir Gâr Food.  "It was also a real pleasure to meet representatives for emerging food partnerships and realise the collective potential of our work across Wales towards a healthy, equitable and sustainable food system fit for 21st century challenges."
The second day of the gathering focused on food leadership and was led by the team from My Food Community – a UK-wide network that enables good food champions to learn, connect and take action.  Run by Food For Life Get Togethers, My Food Community offers a programme of activities to bring together people who champion food that is good for climate, nature and health.
My Food Community is designed to inspire, enable and support participants to build knowledge; access networks, and gain resources to organise impactful good food activities.  It allows those taking part to connect with others who advocate for good food and encourages them to take action to lead positive change around good food in their community.
The two-day gathering was organised and facilitated by Hannah Norman, Wales Community Food Manager at Food Sense Wales and was a way of bringing together those working across food-related programmes in Wales.
"This event was a fantastic opportunity to bring together both new and established sustainable food partnerships, as well as programme partners and stakeholders working in the sector," says Hannah.  "The development of sustainable food partnerships is a key priority for Food Sense Wales, and the recent support and funding from Welsh Government has enabled us to expand this model of cross-sector working into all local authority areas in Wales. Although we have regular meetings online, this in person peer-to-peer networking event was invaluable, creating space for knowledge sharing, best practice, and building strong relationships, not only across sectors but across all areas of Wales."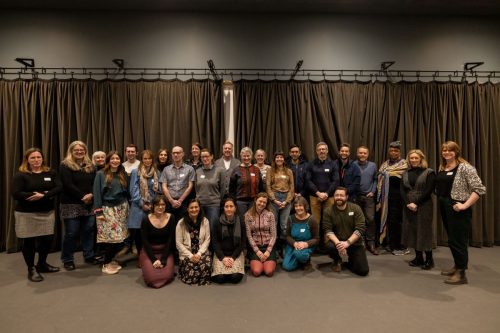 For more information on food partnership, Sustainable Food Places or My Food Community in Wales, please contact Food Sense Wales directly by emailing foodsensewales@wales.nhs.uk