Plant and Share Month 2023
Plant and Share Month runs from April 22nd – May 20th 2023 and is a campaign to get the nation growing and sharing produce with their community, school, family or friends. It's run by Food for Life Get Togethers, a Soil Association programme that aims to build connection through growing.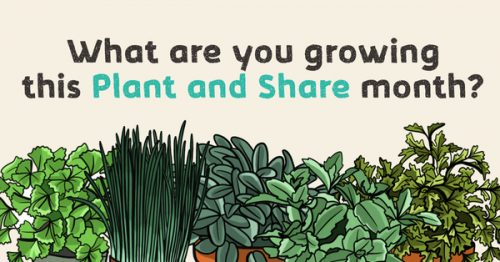 This year's Plant and Share Month has four key themes, with handy resources and tips each week to support your growing activities:
Week One: 22nd – 28th April – Growing for All
Plant and Share is about making growing your own food easy and accessible for everyone, from first time growers to community organisers.
Week Two: 30th April – 5th May –  Growing to Eat
​With rising food costs, growing food can be a simple and fun way to enjoy good food. Whether you're growing tomatoes on your windowsill, or strawberries in an old container, there are a host of great resources to help.
Week Three: 6th May – 12th May – Growing for Joy 
Getting out in the garden can do wonders for your wellbeing. This week is all about growing beautiful plants to bring colour and wildlife to your backyard or veggie patch. Why not grow some beautiful flowers or lend a hand in your neighbourhood?
Week Four: 13th – 20th May – Growing for Nature
Bees, bugs and other wildlife are nature's superheroes, helping produce the food we eat. Growing some nature-friendly plants is a great way to do your bit for the planet.
New Plant and Share toolkit!
The team at Food For Life Get Togethers have 15 refreshed and new resources and tips to get your Plant and Share activities off the ground, which are completely free to download.
Visit www.fflgettogethers.org for more information.