UK Food Businesses serve 162 million extra portions of veg in 3 years as a result of Peas Please
Veg consumption could take a hit with new briefing paper finding that a No Deal Brexit could increase the price of fruit and vegetables by 4%
Highlights:
Peas Please is a multi-stakeholder project that works with businesses, civil society and policy makers across the UK to make it easier for people to access vegetables, by getting organisations to pledge to grow, serve or sell more veg.
Peas Please is delivered in Wales by Food Sense Wales, an organisation working to create a food and farming system that is good for people and good for the planet.
The third annual Progress Report shows that UK food businesses have served or sold 162 million additional portions of veg over the past three years as part of the Peas Please initiative
The report highlights how Covid-19 has caused widespread disruption to food businesses increasing their veg consumption targets.
Despite this, the Peas Please initiative still directly contributed to 72.1 million additional portions of veg being sold or served this year.
Although the pandemic continues to impact many sectors, there is a real opportunity to rebuild the food economy so that it is more veg focused.
Brexit is a further risk for UK vegetable consumption. Despite the UK's reliance on imports of fruit and veg from the EU, the increasing likelihood of a No Deal Brexit will increase prices of fruit and veg, according to new data released by SHEFS.
A new briefing paper finds that prices of fruit and veg will increase by an average of 4% as a result of a No Deal scenario, which would mean imports from the EU would be automatically subject to the new higher UK general tariffs
 Full Press Release:
The 2019-2020 progress report released today (Monday 7thDecember) by Peas Please – a project that works to make vegetables more appealing, accessible, and affordable – unpacks the 'Veg Pledges' made by 25 Veg Cities and 70 contract caterers, high street chains, retailers, wholesalers, manufacturers, public food procurers and broadcasters.
The report finds that an impressive 162 million additional portions of veg were either served or sold by these businesses as a direct result of the programme. The numbers in the report do however paint a picture of a food system hit hard by the Covid-19 pandemic, with 27% of organisations that are part of the scheme unable to report back this year due to capacity issues (the majority from the Out of Home sector, highlighting the ongoing challenges faced by this sector).
Even with Covid-19 causing disruption across the food sector, the Peas Please initiative continued to deliver on its mission, with 72.1 million additional portions of veg being sold or served this year. This demonstrates remarkable progress in the right direction, despite the rate of increase slowing slightly as a result of the pandemic (approximately 13 million fewer additional portions were reported compared to last year.)
Retail grocery sales data provided by Kantar show that the proportion of veg in a consumer's shopping basket remains low (7%), despite overall grocery sales increasing by 13.7% in the 12 weeks leading up to mid-June. Were retailers to be in line with the government's Eatwell Guide, 20% of the shopping basket should be made up of veg. The absence of an uplift in the percentage share of retail shopping baskets that are veg this year, despite the closure of the Out of Home sector, is a concerning indictment of the current situation in the UK. We are simply not selling, serving, or eating enough vegetables.
New analysis from SHEFS finds that a No Deal Brexit would further compound the challenge of increasing veg consumption. 68% of our total supply of fruit and veg in the UK is imported, and a no deal scenario would mean imports from the EU (as well as non-EU countries where trade deals have been negotiated through the EU) would automatically be subject to the new UK 'most favoured nation' tariffs.
This could result in the average British family paying an average of 4% more for their fruit and vegetables over the course of a year. Some products could rise by even more: for example, tomatoes would become 9% more expensive. Increased food prices will impact the more deprived groups of society the most.
Peas Please in Wales:
One of the Peas Please pledgers in Wales is Lantra, on behalf of Tyfu Cymru, which has pledged to produce an Action Plan for Commercial Horticulture for Welsh Government.  This will look at how we can protect but also develop and grow the horticulture industry in Wales in an innovative and sustainable way.
Led by Tyfu Cymru, a project managed by Lantra, and with funding from the Welsh Government Cooperation and Supply Chain Development scheme, this Action Plan for Wales outlines a multi-stakeholder, whole supply chain approach to develop and sustain the commercial production of edible and ornamental horticulture produce in Wales for the long term.
"Boosting horticulture farming is key to the Welsh Government's plans to emerge from the coronavirus pandemic and is identified by their Green Recovery Taskforce as a route to accelerating Wales' transition to a low-carbon economy and a healthier, more equal nation," says Sarah Gould, Horticulture Co-operation and Supply Chain Manager at Tyfu Cymru.
"This Action Plan for the Commercial Horticulture Industry in Wales provides a roadmap and recommends actions to build in-line with Welsh Government strategic objectives."
This particular Peas Please pledge draws on Lantra's experience of building the skills necessary to enhance the capacity and capability of the industry. It aims to scale-up proven achievements that will continue to benefit Welsh horticulture businesses. It also responds to both immediate needs and provides leadership to equip businesses with the knowledge and practical skills for green and inclusive growth supported by applied research and appropriate use of technology.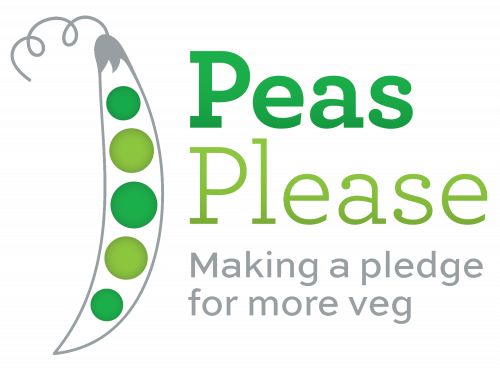 Another Peas Please pledger in Wales is Castell Howell, Wales' largest independent food service wholesaler.  As well as pledging to increase the vegetable content in the company's Authentic brand of ready meals, Castell Howell is also promoting the benefits of consuming more vegetables to its customers and training its workforce to promote a culture that is supportive of increased vegetable consumption.  Indeed, such is Castell Howell's commitment to the Peas Please project, that Edward Morgan, the company's Group CSR & Training Manager was recently awarded the Individual Champion Prize at the inaugural Peas Please Prizes.
"Castell Howell is delighted to be part of the Peas Please initiative and is really pleased that our commitment to the project has been recognised at a UK level," says Edward Morgan.
"We're also proud to be working with Veg Power, a campaign to get more children eating vegetables which has grown out of the work of Peas Please.  We currently supply over 1,800 schools and both initiatives complement our work and our commitment to supporting the communities in which we operate," continues Edward.  "We believe that it's really important that everyone within the supply chain works together to drive change and promote sustainable action, in turn providing both social and economic benefits to our customers as well as our suppliers."
Katie Palmer, Programme Manager at Food Sense Wales and Peas Please Board Member, is proud of the commitment that producers, wholesalers, retailers and catering outlets across Wales have shown to the initiative:
"In what has been an extremely challenging and difficult year for the Food Sector across the UK, we're really pleased that 72.1 million additional portions of veg have been sold or served in the UK this year.  Peas Please shows that if all actors and agents across the Food Sector work together, we can achieve a shift in people's habits, throughout the food system, and have a positive impact on people's health.
"Our diets are leading to high levels of obesity, type 2 diabetes and other diet-related disease – and we all need to eat more veg.  Peas Please explores the levers along the supply chain which have the potential to increase vegetable consumption in a sustainable manner.  We recognise that in order to support consumers to make healthier choices, we need to see changes across our food system.
"Food Sense Wales is now looking forward to engaging with the wider food sector in Wales to champion the work of the Peas Please initiative and to help drive that change," adds Katie.  "By recruiting more pledgers; building on already established relationships and by delivering exciting projects such as the Peas Please funded Small Edible Horticulture Grants, Food Sense Wales can help benefit not only people's health but the environment too."
ENDS